The Wildlife Loop Triathlon is the first ever half iron distance triathlon in South Dakota. It takes place in Stockade Lake located 3 miles east of Custer on the south side of the road. On top of that this premiere race offers $3000 in prize money to the top 3 overall male and female athletes! If your looking for a great race this triathlon starts off at 5,177 ft. above sea level.  Many famous attractions including Mount Rushmore and Crazy Horse Memorial all within 10-20 minutes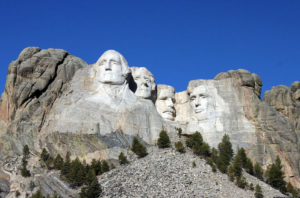 https://www.wildlifelooptriathlon.com
I heard about this event form a post in the NoCoTri Facebook Group. The big attraction for me what the $800 first place prize money and the fact that the race was small, it attracted 21 participants the first year. This year 46 participants. To say the race was "relaxed"  is an understatement. Start time was between 7:30 and 8:am depending when the fog would lift. The timing system backed out last week, so no timing chips, no start or finish line. I parked directly in front of the transition area. Arriving about 6:30am, I picked up my packet about 15 minutes before the start, which was delayed 30 minutes due to fog on the water.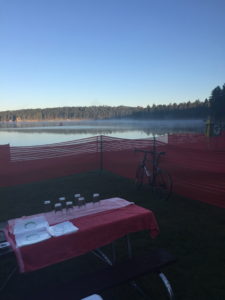 Swim:  The swim was a two loop course in Stockade Lake in Custer State Park. The water was very pristine and cool, perfect for a full sleeve wetsuit. My guess was race day temperature about 67 degrees. The course was very short. I exited the water in about 21 minutes. Being a swimmer, a short course is a disadvantage for me, but I was pretty happy to exit and get going on the bike.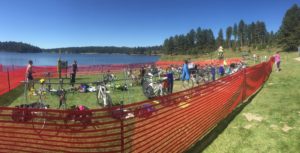 t1: When I entered t1, I saw one female competitor exciting. I assumed I was in second place. This was my Slowest.  Transition. Ever. I bet 3-4 minutes. I struggled with getting my wetusit off and then trying to put on a jacket. The air temp was mid 40s. I saw competitors transitioning fast with no added cloths so said "screw it". I was only chilly for a few bike miles, Todd Mellinger was right!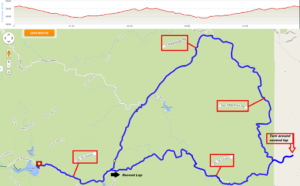 Bike: I heard the day before the race that the bike course had about 5000 feet of elevation gain. The race was in the Black Hills. so I expected it to be challenging.  During the bike we were riding in Custer State Park, where we would have a chance to see buffalo and many other wild animals. I did not see any until the drive home. A big horn Sheep Crossing.
I just took it steady the first loop to get a sense. Descending was very winding, and not closed to traffic so was a little scary for me.  I was happy to climb very hard, my legs felt strong and I was losing time descending.  A few miles from finishing the first loop I had issues with shifting into the big chain ring on my bike. Out of my control, if I forced it to shift I might break something, I focused on what I could control and that was spinning as fast as I could. The lack of harder gears only affected some faster downhill sections the first 10 miles of the second loop, the uphill sections were great.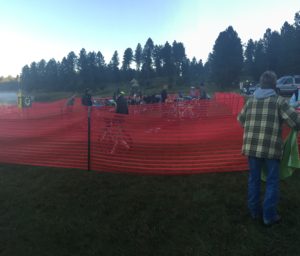 t2: Back at transition I saw the first place female, she was only 3 minutes ahead of me. I was pretty quick this time.
Run: The course as an out and back, 2 loop run. Click here to view map. I knew immediately my legs were gonna carry me to first place. My leg turnover and pace were faster then I excepted. I passed first place at mile 2.5. After heading onto the second loop I knew I had some distance on 2nd, 3rd and 4th place, still running strong, I slowed up a bit cause at this point I just needed to finish. It was great to see some fellow NoCo triathletes during the run too!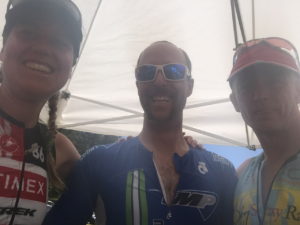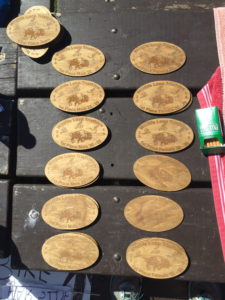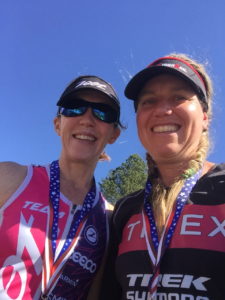 All competitors received a finisher medal and top three in each age group won an award.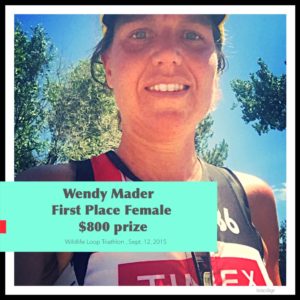 Top 3 men overall men, 2 from Boulder, the other from Fort Collins. Race director Brandon cutting the checks
I spoke to the RD about growing the event. He mentioned, due to the course, not much more then 200 participants would be able to race. I hope this event continues to grow to the maximum participation. For more details click here
Join Our Awesome Newsletter!
When you sign up for our free newsletter, you'll receive a weekly publication jam-packed with Health, Fitness and Performance Advice PLUS you'll receive a special 33% discount code to our Training Plans on Training Peaks and other exclusive sponsor deals! What are you waiting for!? Add your email below and click Subscribe.