PISCES – The Partner for Life (February 19 to March 20)
Caring and kind. Smart. Likes to be the center of attention. Very organized. High appeal to opposite sex. Likes to have the last word. Good to find, but hard to keep. Passionate, wonderful lovers. Fun to be around. Too trusting at times and gets hurt easily. VERY caring. They always try to do the right thing and sometimes get the short end of the stick. They sometimes get used by others and get hurt because of their trusting. Extremely weird but in a good way. Good sense of humor!! Thoughtful. Loves to joke. Very popular. Silly, fun and sweet. Good friend to others but needs to be choosy on who they allow their friends to be. 5 years of good luck if you share this post.
Since I turned 40 years old I celebrate by Birthday with some sore of "Epic" workout. When I turned 40 I was training for a 100 mile trail run and my goal was to run 40 miles on by Birthday. Weather was not optimal so I completed 40 miles alternating 8 miles on the step mill with 8 miles on the treadmill, read more about it here. When I turned 41, the year I finished 100 miles, I road 41 miles, ran 4.1 and swam 41X 100s.
This year I am celebrating the month with a variety of fun workouts. March 1st-8th I was focused on the number 43. For example Monday I completed 4.3 pull-ups, 4.3 minute plank, Tuesday I road 43 miles and ran 4.3 miles, Wednesday I got in 43000 steps.
I am grateful I was born 42 years ago and my body and mind still enjoy everything fitness related.
The age of 40 seems to be when my athletic friends start to do "epic" training on their birthday.  When I turned 40 (1 year into training for Ultras) I wanted to run 40 miles on March 9th. The forecast on March 8th called for the snow storm of the century, so I changed my plans. I was not one to run 40 miles in a foot of snow (now I am that person), so I went to the club at 6am on March 9th, 2013 and did a 40 mile workout alternating between 8 miles on the treadmill and 8 miles on the step mill. In September, I completed my first 100 mile run at Run Rabbit Run in Steamboat! My word for 2013 was EPIC!
The age of 41 is not considered a milestone age like 40 and 50. I wanted to do a non-fitness related challenge so I started a Birth Month Gratitude group. My goal for 31 days was for me and my friends to post at least 41 things we were grateful for. My gratitude group  still continues 1 year later. On my birthday I remember completing 4.1 hours worth of biking and running. My word for 2014 was GRATITUDE 
My word for 2015 is MINDFULNESS.  I started promoting mindfulness when I created a Mindful Eating Support Group to encourage others to be mindful of what they are putting in their month. We learn portion control and how the food makes us feel before, during and after eating. I use the word everyday with clients. I had full days planned for my birthday weekend and being mindful was important.
Friday March 7th at Barcelona Salon. My annual hair do.
Since my birthday fell on a Monday this year,  I focused on my last 2 days at a 41 year old Saturday and Sunday.
Saturday I set out to ride 41 miles (I had to stop at mile 10 to delete some files, watch memory full) and ran 4.1 miles with my dogs. While riding my goal was to have an average heart rate of 141 beats on the bike
 Sunday I ran 14.1 miles in the morning. Then I celebrated daylight savings and enjoyed a walk with my dogs to total 41000 steps for the day (I forgot the photo).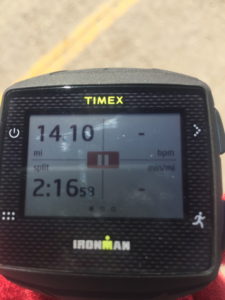 As I was riding and running on Saturday and Sunday, I was thinking about my activities for March 9th, being mindful doing what I love, and loving what I do!
I made a list that involves a variety of my weekly challenges I post in my Health, Fitness and Sport Group. Part of my daily challenge is a plank a day Q and A.  Here is a link to my March 7th Plank a Day video that I express more about why I do what I do.  Video 1 then Video 2 cause the first one got cut off.
Sunday I prepared enough healthy food and water to keep me fueled and was very mindful about wearing my activity trackers to keep me honest
Monday
My 42nd Birthday plan was to expend 4200 calories doing a variety of activities during the day between coaching and appointments.
4.2 minute plank—-done at 6:45am
42 x Burpee Pull up—-done between 8:45-9am
42x leg press on machine—done between 8:45-9am
42 x asssisted dips—done between 8:45-9amdone between 8:45-9am42 x lunges
42 ounces of water (this was easy since I usually drink a gallon)
Bonus was 42 minutes with 4200 steps on the step mill because my 8am appointment no showed
42 x mile bike with 42 variety of 42 "intervals" at least :42 seconds long—started at 6:45-7:45am and finished between 10:30-noon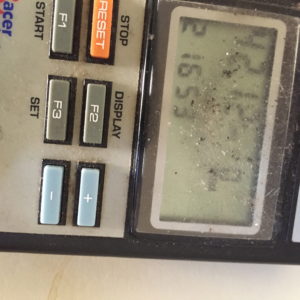 I love working while I ride my trainer so it was no big deal for me to ride my 42 miles indoors  between appointments and coaching. I started at 7am-7:45am then finished 10:30-noon. I included 42 "intervals" and kept track on my phone.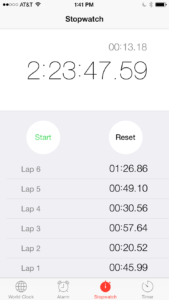 Odds were hard, evens time recovery.
 4.2 mile miles walking back and forth to the Fort Collins Club and with my dogs. done at 1pm. I love walking and working too. I am my own treadmill desk and often walk miles while answering emails and talking to clients on the phone. Today I accumulated 4.2 miles while walking to and from the club (1/2 mile round trip) and with my dogs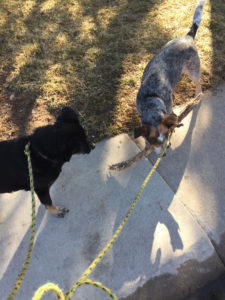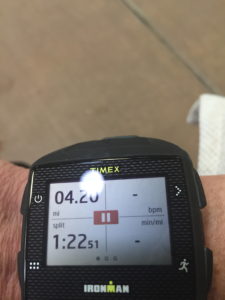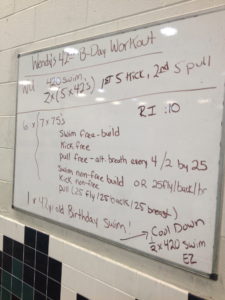 It would not be a birthday with out a birthday swim. 4200 yard swim— Coach Rob created a workout I swam with the Rocky Boys swim team. My Birthday 50 yard butter fly Swim Video. Accumulating at least 14200 steps (easy)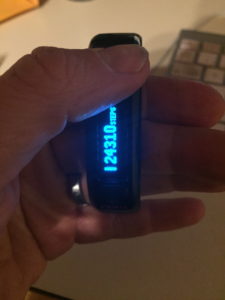 4200 calories expended. Got pretty close at the end of the day based on my fit bit activity tracker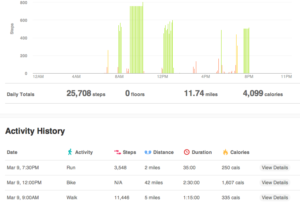 The day ended with a Birthday massage from my husband and RAW Carrot Cake from Tasty Harmony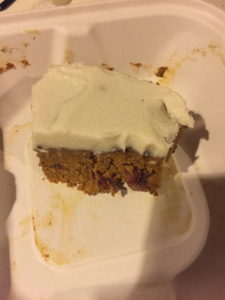 Pull up Burpee video here
4.2 minute Plank A Day Q and A video here
Ah, the technology kept me Accountable and Mindful!
1. Making sure I had my Timex One GPS with me when I walked to and from the club for appointments (I forgot on first round trip which is 1/2 mile).
2. Carrying my phone, and wearing my Timex Move20 with me to keep track of my steps and caloric expendure.
3. Carrying my little white cup with me, it holds about 1/3 cup of water so I could  drink 42 of them.
4. Mindful 0f having plenty of snacks and meals prepared so I did not let nutrition and keep me from my goals
What do you do to celebrate your Birthday?
Join Our Awesome Newsletter!
When you sign up for our free newsletter, you'll receive a weekly publication jam-packed with Health, Fitness and Performance Advice PLUS you'll receive a special 33% discount code to our Training Plans on Training Peaks and other exclusive sponsor deals! What are you waiting for!? Add your email below and click Subscribe.