This time last year I was over trained and injured and not that motivated to run 100 miles on September 19th. Not to be repeated, I started to  taper down my running miles for Run Rabbit Run, 1.5 weeks ago.  I am approaching the taper like I approach an Ironman Taper, my peak weeks are week 4 and 5. I hit 100 miles both weeks with plenty of altitude training and included some "speed" and "tempo" runs. I use those terms loosely since I am not that fast right now.
I often refer to Joe Friel philosophy, "When tapering you're losing "fatigue" in order to gain "form." You're not gaining fitness, although it will feel like you are."  Now, 2 weeks out, time to cut the junk and maintain some form and intensity.
This past Labor Day weekend I focused on form and intensity at the Inaugural Black Squirrel Half Marathon on Saturday and Colorado Run 5k on Monday.  My legs felt strong both days. I finished 6th in my age group Saturday beating my goal time by 3 minutes. I won my age group and masters division at the 5k on Monday (all the fast girls stayed home). Below are 2 photos from the start of each event.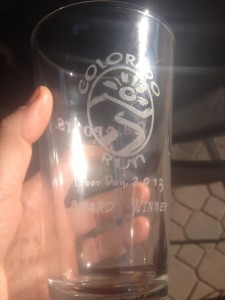 Join Our Awesome Newsletter!
When you sign up for our free newsletter, you'll receive a weekly publication jam-packed with Health, Fitness and Performance Advice PLUS you'll receive a special 33% discount code to our Training Plans on Training Peaks and other exclusive sponsor deals! What are you waiting for!? Add your email below and click Subscribe.