Thank you for all the facebook pre and post race messages. My buddy Jennifer Garcia said "You know you have awesome friends when you wake up this morning and your news feed is filled with Ironman stories! " And in my case, my timeline was full of congratulations messages and race photos of me.
It means so much to read everyones comments. I like to spend the morning post Ironman sharing stories. Reading your comments is part of the my motivation to continue to do what I love to do. My husband posted my quote, "sometimes you win, sometimes you finish." Comments like "finishers are winners" help keep my perspective when my mind goes elsewhere.
My number one goal when I get to the start line of a race is knowing I have done the mental and physical preparation to achieve my performance goal. To focus on what I can control and evaluate the "things" that can happen that I can't control. I felt 100% mentally and physically prepared so was pretty relaxed race morning. I still did my Plank A Day
IM Boulder 2015 is probably my favorite course. Warm swim with no current. The bike course is within Boulder County, fairly fast, with a couple hills. The marathon has some beautiful areas on the Boulder Creek path. Lots of out and back sections so you are never alone. The community is awesome!
Every Ironman I have done provides an experience, each one unique. I approached this years IM Boulder focused on running strong. I was confident that if I ran within my fitness, I would get a Kona Slot. This was important to me cause I struggled on the run at Legend 100 triathlon and Tri the Boat Half. I am not injured and training had been going great. I attributed my sub par run performance during these June events to nutrition and lack of proper 'rest' mainly pre race. I made a conscious effort to not let nutrition or weather get in the way of my fitness and performance in Boulder.
Pre race: I did everything right. Tapered off my training and maintained a high level of calorie and carbohydrate intake as well as hydration a couple weeks out and especially the week leading up to the event. I hit my "key workouts" and was very confident what my power on the bike and pace would be on the run. I would finish under 10:30 in Boulder.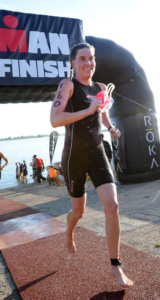 Swim : I was thrilled the water temperature was 78 degrees and everyone who was racing to get a top 5 podium or Kona slot could not wear a wetsuit. My swim training was almost non existent this year. This year the plan was controlled pace. I caught a draft behind 3 other guys so the swim felt relatively easy. The downside of not wearing as wetsuit was that I seem to swallow more water then normal. This happened in 2009 Kona IM and caused some major GI issues that caused me to walk the entire marathon that year. Always grateful to be a strong swimmer exiting the water in :57 minutes
Photo credit: Boulder Daily Camera
T1: Long and uneventful. Love the volunteers!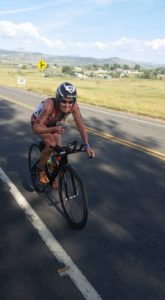 Bike: As mentioned above I love this course cause it is not very hilly (relative to other Ironmans). My bike nutrition consisted of a powergel, one bottle of Gatorade and a bottle of water, about 200 calories per hour(same plan as in 2008 Ironman). This year I added BASE salt on the bike.
I had my IM power dialed in and decided to scale back cause I wanted to be ensure I would have a strong run. I started 'trying' at mile 60 and my body responded perfectly. Like so many other racers, I was intimidated by the few climbs between miles 90-100. When I got to the first set of hills, I had the power to get up them. Then my body seemed to start to fall apart approaching mile 95.
Falling apart meant I was feeling breathless, nauseated, dizzy, and no strength. Thoughts of not finishing the bike entered my mind. I never had breathing issues and even considered not finishing the bike portion of an Ironman. To be safe, I coasted the last 12 miles. Mentally I struggled at this point. "How was I going to run a marathon?" I dismounted and was pleasantly surprised to see a 5:20 bike split, under my 5:30 goal time. I felt like I took it easy on the bike compared to other Ironmans I have raced. This year the marathon was 100% mental game for me before I got off the bike.
Photo credit Mike Zuhlke
T2: Awesome volunteers!!! I am always grateful to dismount the bike with no mechanicals or crashes. I heard of someone crashing at the dismount line due to another racer and another participate got hit by a drunk driver at mile 108. Both survived and finished the race. I am sure many more stories out there.
Run: When I started running I was in 4th place and my legs felt descent, nothing like the glycogen depletion that I felt when I ran in Tri the Boat and Legend. My breathing was under control and I was running 8:30 pace. I knew if I ran a 4 hour marathon I would still break 10:30 and get a slot to Kona. About mile 8, nausea started again and at mile 11 I was walking due to the same breathing issues and nausea I felt on the bike. At that point a paramedic came to chat me me and directed me to the med tent. I thought it a good idea to get my blood pressure checked because last year it was 60/40 when I finished.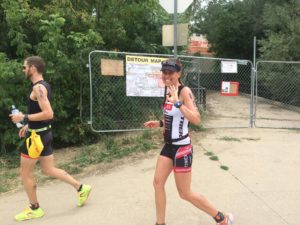 Photo Credit Cindy Dallow (after I went to medical)
I sat down, although they told me to stand, I could not stand anymore. They brought me orange, grapes and chips. At that point I wanted my race to be done. My mind was not into it anymore and I was struggling like I have never struggled before with breathing. I watched my competitors pass by and knew I was not going to get my 4th overall place back, let alone a Kona slot. So what to do. The medics suggested I stop. If I did quit, I could have put the blame on them if I chose too.
I respect the Ironman Distance and part of the deal, what happens during the race, is dependent on that day. When you decide to train and race then you should accept the struggles and disappointments as much as the "wins/accomplishments". I knew my body and mind were capable of walking and finishing the race. I just needed to change my mindset. About 15 minute later I stood up and started walking.
When I got to the "hot spot" mile 12-13, where most spectators were cheering, I was able to jog , looked at the time and my goal now was to finish under 12 hours. Heck, 11 hours was still a possibility. From miles 13-26.2 I jogged from aid station to aid station and walked while sipping water.
Believe it or not, at mile 18 I had a feeling (and was right) that I was in 5 th place in my age group. I still had a shot at breaking 11 hours so I started to pick up my pace. That lasted for 3 miles, then the nausea/breathing issues came back and I slowed to a walk/jog. Two women in my age group passed me, they were struggling, and we went back and forth, the final 2 miles they passed me and I would not keep up. I finished joyfully 7th in my age group.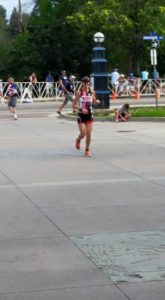 Finishing stretch photo credit Ripley Casdorph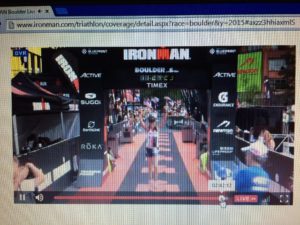 It is easy for me to smile while running even though I am struggling cause I am doing what I love. Running, biking, racing, I am very grateful for what my body can do! So many great photos on my facebook wall, thank you!
Post Race/Final thoughts:I practice what I preach to athletes I coach, focus on what you can control. I am not disappointed, I understand that struggles come with being an Ironman athlete. I just can't figure out what I did that caused breathlessness and nausea. This was the 2nd of 15 Ironman I have finished that I have had GI issues. In 2009 and 2015 both I swallowed a ton of water, so that would have been the issue.
The positive side of this Ironman is recovery. I did not trash my body running a fast marathon 🙂 I am ready to take a break from racing and enjoy running and biking without the "training plan" involved. I can't think of anything I would have done differently in training or nutrition leading up to this race.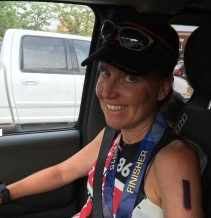 Thank you to the hundreds of volunteers on the course. Races cannot happen without volunteers. Thank you to my sponsor support, Team Timex and Powerbar. Thank you to Patrick Ray, PRTriWorks for getting my bike race ready. Thank you Tish Moore of the much needed pre race massage. Then you to my husband Don who supports me 100% every day. Thank you to Eddie for the homestay in Boulder. Thank you to all my friends and family, the list goes on and on, I am very grateful for all of you, for the well wishes.
Join Our Awesome Newsletter!
When you sign up for our free newsletter, you'll receive a weekly publication jam-packed with Health, Fitness and Performance Advice PLUS you'll receive a special 33% discount code to our Training Plans on Training Peaks and other exclusive sponsor deals! What are you waiting for!? Add your email below and click Subscribe.