I love training in the heat, both dry and humid climates. I lived in CO for 21 years and moved to Georgia in April 2016. Training in wet and dry heat is different. So are the signs and symptoms for heat exhaustion and heat stroke and it is important to know the difference.
Heat exhaustion is characterized by the inability to continue exercise, headache, fatigue, chills, nausea and confusion. It can be treated by stopping exercise, getting out of the heat and, if a person is coherent and not vomiting, by rehydrating with fluids.  If you have ever spectated or raced in an endurance event such at Ironman, you have seen many athletes in the med tent getting intravenous administration of a dextrose or saline solution to rehydrate and can help facilitate recovery.  My one experience in the med tent happened in 2014 after Ironman Boulder. Although I did not feel heat exhausted after crossing the finish line, I felt nauseated and choose not to drink the bottled water given to me. About 90 minutes after I finished I know something was not right and went to medical.  I was shocked how dehydrated I was and my blood pressure was 60/40. It took 2 liters in medical and a trip to the hospital for 2 more to feel better and get my bloop pressure up to 90/60.
Heat stroke, a more serious form of heat illness requiring medical attention, is characterized by confusion, central nervous system dysfunction and a body temperature over 104 degrees. It is treated aggressively by immersing the person in cold water or by applying ice packs over their neck, armpits and groin region. It's important if you or a friend are experiencing any of these symptoms that emergency medical services are called.
Here's some tips to keep you healthy and fit in the heat taking from the American College of Sports Medicine.
Drink plenty of hydrating fluids before, during, and after exercise. ACSM encourages exercisers to consume approximately five to 10 ounces of fluid every 15 minutes during workouts (that's equivalent to about 3-5 big gulps of water).
Throwing water over your head at aid stations will also help keep you cool but don't sacrifice water going in your body for water going over your body.
A good indicator of adequate hydration levels is clear urine.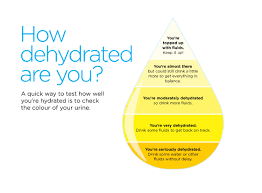 Wear breathable clothing that will help wick away moisture helping in the evaporation process and keeping you cool.
Wear a sun visor and sunglasses to shelter you from the sun.
If you know it is going to be hot during your race, do a couple training sessions in the heat of the day with to see how your body adapts.
Also be mindful if during your planned lunch workout, the thermometer is reading dangerous, opt for an evening workout instead or stay indoors.
Back off on your pace. Listen to your body which is working overtime to manage the heat. You may not be able to achieve your normal speed at the same effort so just relax and take it as a moderate or easy day.
Be sure that you're rested and well-fed. If you're tired and hungry, the effect of the heat will be much greater.
American Heart Association Staying Hydrated 
Planning for the Heat in Kona, managing caloric intake in heat and humidity, Running in Hot weather Endurance Hour YouTube Channel. Have more questions about heat or race day nutrition or hydration? Contact t2coachwendy@gmail.com.
Join Our Awesome Newsletter!
When you sign up for our free newsletter, you'll receive a weekly publication jam-packed with Health, Fitness and Performance Advice PLUS you'll receive a special 33% discount code to our Training Plans on Training Peaks and other exclusive sponsor deals! What are you waiting for!? Add your email below and click Subscribe.