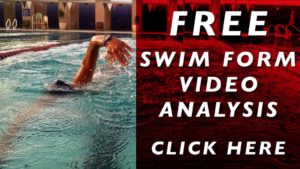 I offer a one time FREE Swim Analysis. You capture the video from your smartphone,  above and if possible under water with a waterproof camera case and drop your video into a Dropbox and share it with me, or you can email it to me.
Once I get your video I am able to do a voiceover, to give you audio about what you are doing while you are watching your stroke. I spend the first 2 minutes explaining the "big picture" of the 3 main phases of the stroke, then explain what is going on with your stroke and give you specific drills to work on to fix your technique limiters.
Related Articles:
How to Prepare for Open Water Swimming
Swimming Made Easy with Over 101 Swim Workouts
Is Kicking Critical To Success?