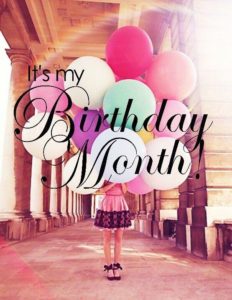 When Carla Thompson posted on March 1st, 2013, the first day of her birth month and was celebrating for 31 days, I decided since this was a monumental year, turning 40, that I would celebrate with her, for 31 days. Since 2013 was the year I was training for my second attempt at Run Rabbit Run 100 mile trail event, my Birthday Workout goal was to run 40 miles. Weather was not optimal that year in Colorado so I completed 40 miles alternating 8 miles on the step mill with 8 miles on the treadmill, read more about it here.
Since then I continue to celebrate my Birth Month like a "training camp" and give myself the gift of fitness, ITS FREE!
2014, when I turned 41 I resumed triathlon type training and I needed to jumpstart my bike and swim fitness. My Birthday challenge was to ride 41 miles, ran 4.1 miles and swam 41X 100.

2015, was fun, so much variety, including planks, bur-pees, swim, bike, run, step-mill and more, I blogged about it 

here
2016, the only race on my calendar was Boston Marathon so I was just running and decided to run 43k on my Birthday
Now into 2017, by birth week, I  focused on the number 43. March 1-5 was spent running, hiking and biking, just my Ironman training plan routine.
Monday 6th,  was my first MaxOutMonday in March and I completed 4.3 pulls-ups and a 4.3 minute plank.
Tuesday 7th, I road 43 miles and ran 4.3 miles
Wednesday 8th I finished the day with 43000 steps (running and walking combined)
Thursday the 9th I am officially 44 years old, I am tired and completed a 44 mile ride,  4.4 miles on the step-mill, 4.4 minute plan, 4.4 pull-ups and 44 pushups plus racking the yard

Friday then 10th I will swim 44oo meters, SKIP, 11x (4X100) alternating 100 swim, 100 kick, 100 IM, 100 Pull, on 1:44 secondoff

Saturday 11th, 88 (double my age and ironman training ride) + a transition run of 4.4 miles
Sunday 12th, 22 (half my age) mile mountain bike ride (I am not much of a mountain biker so gonna give it a try)
Monday back to 4.4 minute plank, 44 pull-up bur-pees with push-ups
Since I celebrate all month, my BIG EPIC workout actually will take place on Tuesday March 14th at Amicalola Falls State Park steps, Stay tuned
15th an 16th (recovery workouts) TBD
17th-26th celebrating in Colorado TBD
27-31st (recovery :)) TBD
How do you like to celebrate your Birth Month or Birthday? Leave me a voicemail and we will talk about it on the next Endurance Hour Podcast.
PISCES – The Partner for Life (February 19 to March 20)
Caring and kind. Smart. Likes to be the center of attention. Very organized. High appeal to opposite sex. Likes to have the last word. Good to find, but hard to keep. Passionate, wonderful lovers. Fun to be around. Too trusting at times and gets hurt easily. VERY caring. They always try to do the right thing and sometimes get the short end of the stick. They sometimes get used by others and get hurt because of their trusting. Extremely weird but in a good way. Good sense of humor!! Thoughtful. Loves to joke. Very popular. Silly, fun and sweet. Good friend to others but needs to be choosy on who they allow their friends to be. 5 years of good luck if you share this post.
Join t2Endurance Club on Facebook
The t2Endurance Club on Facebook is a PRIVATE page for our athletes. It's dedicated to discussing all things endurance sports with an emphasis on community and support!
Every week, Coach Wendy & Dave will join the conversation with additional advice and feedback PLUS special health and fitness challenges!
Enter your email below for directions. We're looking forward to seeing on the inside!